How To Buy A Car As A Student
July 25, 2012
By: Ashleigh Wight
Owning a car as a student is a big commitment, especially when studying and living at university drinks your bank balance dry. But if you've passed your driving test and frequently like to visit home during weekends, then owning a car gives you a great sense of freedom. Having your own motor also means that you don't have to worry about missing the bus or cramming yourself onto a busy Tube in order to make it to your lecture on time! There are many bonuses to having a car, but it is also a big responsibility.
But buying a car is a difficult process, especially when your knowledge of what makes a good car and what to avoid is limited. Ultimately, you want a car that is both reliable and affordable- something that isn't going to break down after five minutes of driving or guzzle up your student loan in petrol. You don't want to get ripped off by dodgy car salesmen, but what do you need to look out for to ensure what you're buying isn't an old banger? Luckily, HerUni is at hand to help you look out for the things your dad would be proud you took into account when buying a used car.
1. How much will it cost me?
You may see a nice looking car for a few hundred pounds and think that you're sorted, but there are so many other costs you need to take into account. Insurance is a killer, especially on cars that have been modified or have larger engines. Be sure to get a few insurance quotes before you have a look at the car, just so you know roughly how much you will need to pay.
You also need to think of road tax, which is another essential cost. The more eco-friendly your engine is, and the less emissions it has, the cheaper this cost will be. A quick Google search of your car and engine size should bring up an estimate how much you should expect to pay. But remember, older cars tend to be more harmful to the environment, so they will therefore come with a higher tax price.
You also need to take into account the engine size, as larger engines will require more petrol, which equals more money. If you're a student who doesn't care very much for speed or power and would rather save a little money, opt for a smaller engine- anything below 1.3L tends to guzzle less petrol.
Tip: Look for cars with recent tax discs and MOT certificates. This means that you won't have to think of these costs for a while and you can start saving for when the time does come.
2. Looks can be deceiving.
Just because it looks clean and scratch-free on the outside, it doesn't mean that everything is quite so nice under the bonnet. Make sure you have a look under the bonnet before you buy, or better still, bring Dad- he knows what he's looking for!
But just like too much dirt is bad, if the car is a little too clean under the bonnet, this could also be one of the tell-tale signs that the seller is trying to hide something. Be suspicious of engines that look like they have been steam cleaned, just like engines that look covered in oil or muck.
You should also check for corrosion or rust anywhere on the vehicle. Not only does it look nasty, rust is also a sign of structural weakness and is therefore dangerous. Be particularly wary of corrosion on the underside of the car.
Look for any dents or signs of a crash. Changes in paint texture are a sign of a repair after the car has been involved in an accident.
Also, remember to check the tyres for excessive wear. Check for any splits or bulges and make sure the tread is over the minimum 1.6mm legal limit. Don't forget to check the spare wheel too!
Tip: Ask to see the car's service history and repair receipts if repairs have been done to the car.
3. Test drive it.
You should give your car a quick test drive before you buy, to see if you like it as well as to check for any signs of damage. There's no point in buying a car you don't feel comfortable driving in!
The steering and brakes should not pull to the left or to the right when steering/braking. Check that the brake pedal is firm and does not seem too loose. Make sure no warning lights stay on when you're driving.
Be suspicious and question any strange noises or rattling when the car starts up or when you are driving.
Tip: If this is your first car, bring a more experienced driver along too so they can have a quick drive. They'll more than likely have more knowledge of what to look/listen out for and may pick up on things you miss.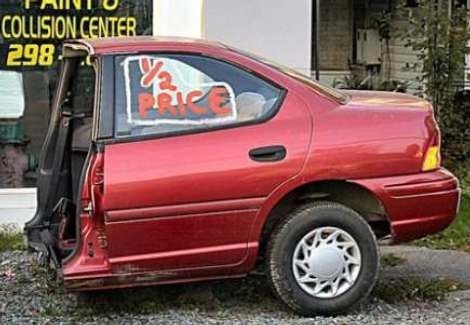 4. Make an offer that you can afford and don't get conned!
As a student, money is tight so first and foremost, you should think about your price range. Most private sellers will put a price in their advert but will also take offers, for example, "£900 ONO" means that they will take offers below, but close to, £900 if they think they are reasonable. So there is no harm in offering a price lower than what is stated in their advert, but be prepared for them to want what the advert stated. If you really think that the car is not worth what they're offering, then it's probably best to move on and find something that is worth your money.
5. Sleep on it.
Buying a car is a big step, so if possible, ask if you can have a day or two to think about it. Go home and look at reviews online, or check the vehicle's history, which will bring up if the vehicle is stolen, if it is an insurance write off, etc. Vehicle history checks do cost around £20, but they are worth paying- you don't want to buy a stolen car!
6. Have fun.
Finally, buying a car should be a fun process. Never buy something that you don't really like, or you are having second thoughts about. It's a big commitment and you need to feel comfortable and safe in your car when you're driving it. Enjoy your hunt for the perfect vehicle!
Images: http://www.dymacvehiclegroup.com, http://www.rpmgo.com, http://www.macmillandictionaryblog.com, www.telegraph.co.uk, http://www.thedigeratilife.com,